Great video, Sean. You need to do MORE railfanning

Nice the boss ( my wife that loves blue), approves of everything except the lead locomotive! LOL!
Hope it's OK that I jack your thread to post some of my 1st run pics.
The C.V.S.Ry. ran a diesel inspection train today after the MOW crew spent several hours cleaning up winter debris. There are still a few things that need to be attended to before the steam trains are allowed to roam the line. The afternoon sun was just about perfect for pictures. Here M-11 and M-10 are under slow orders as they approach Coal Dump curve. There is a lot of remedial rock work needed here…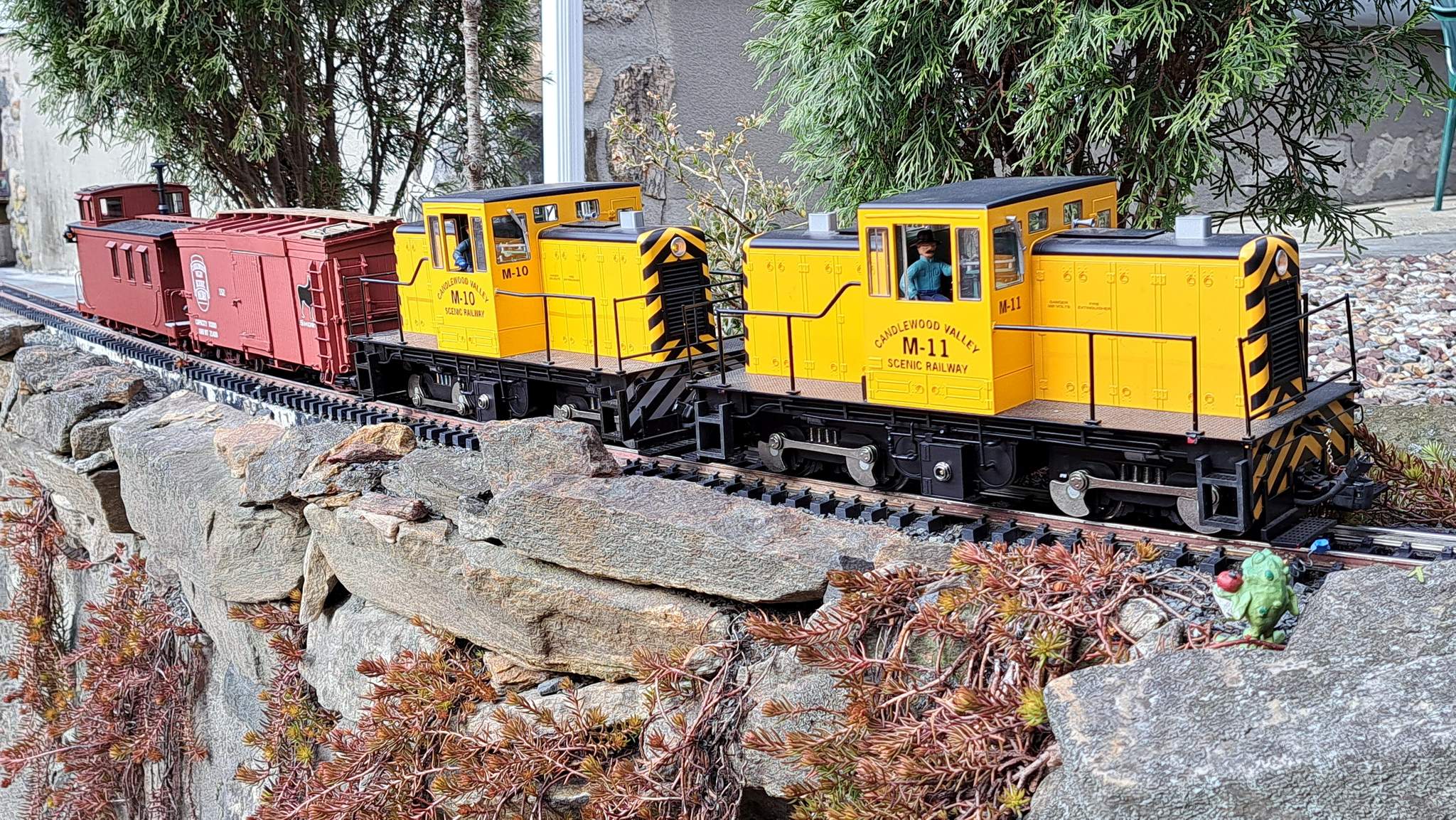 Sven stands ready at the brake wheel just in case uneven track might uncouple his caboose on the steep grade across Indian Hill bridge…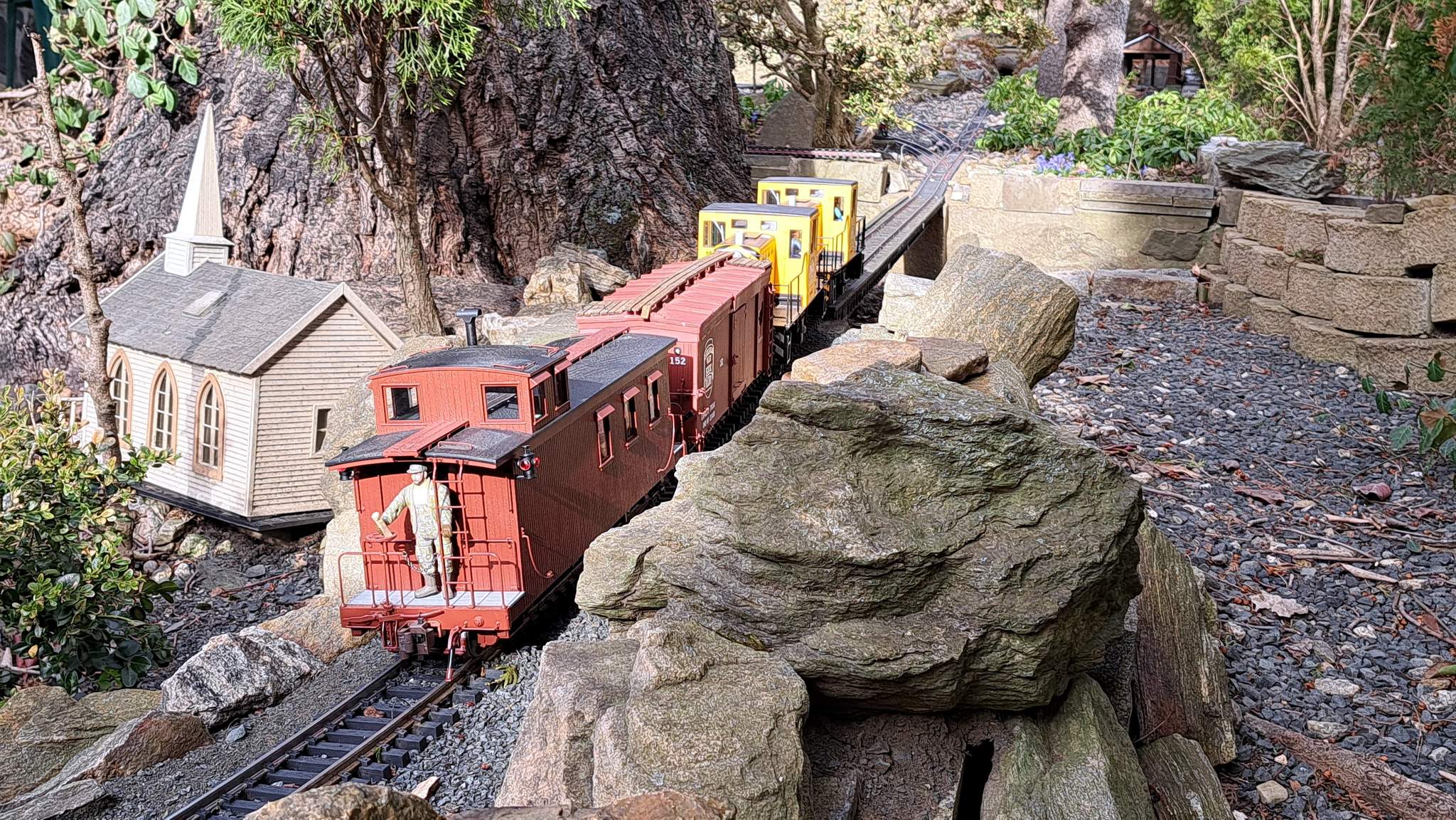 After traversing the wye with only a few extremely close clearance issues, the train heads down grade into the sun…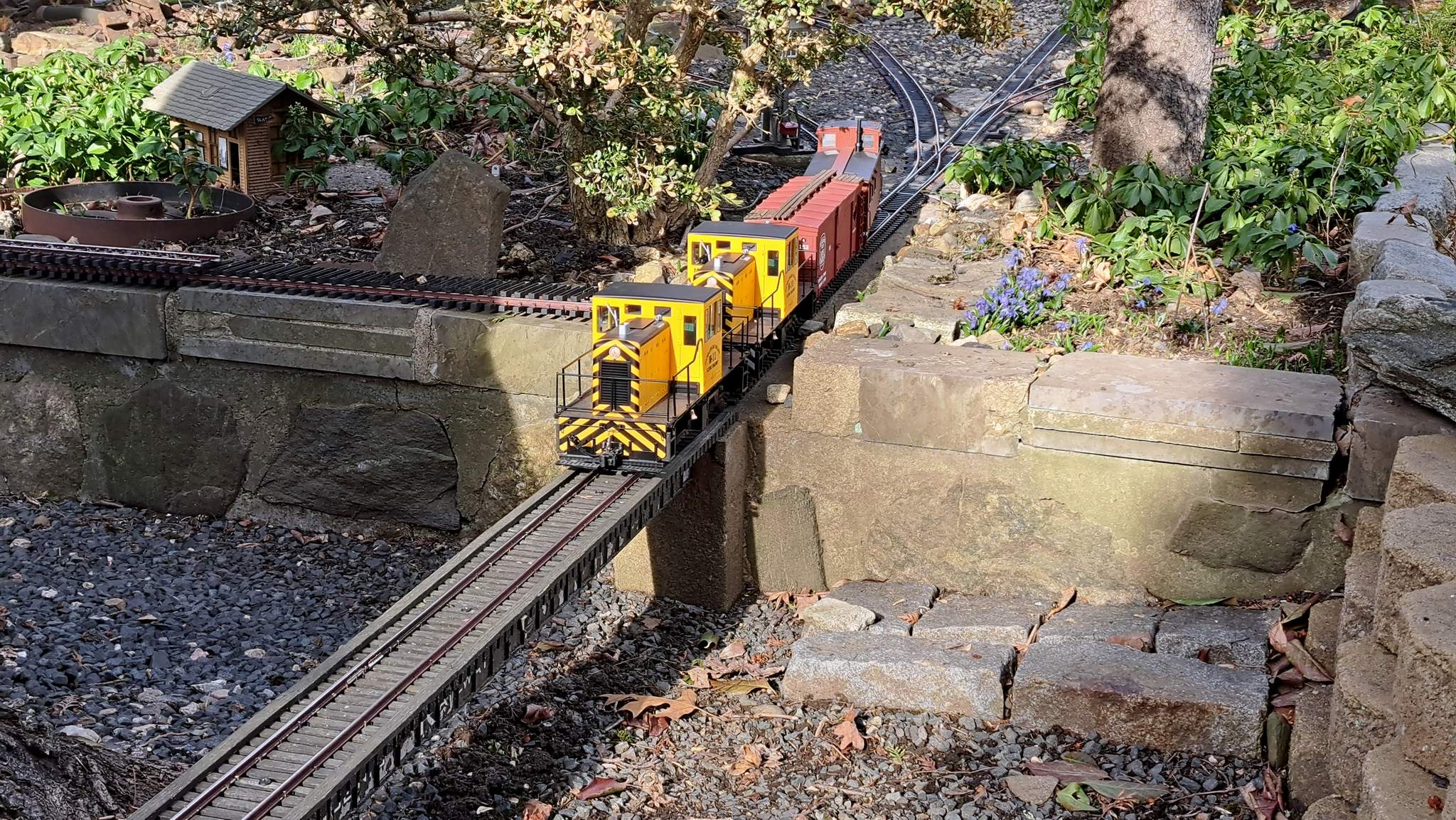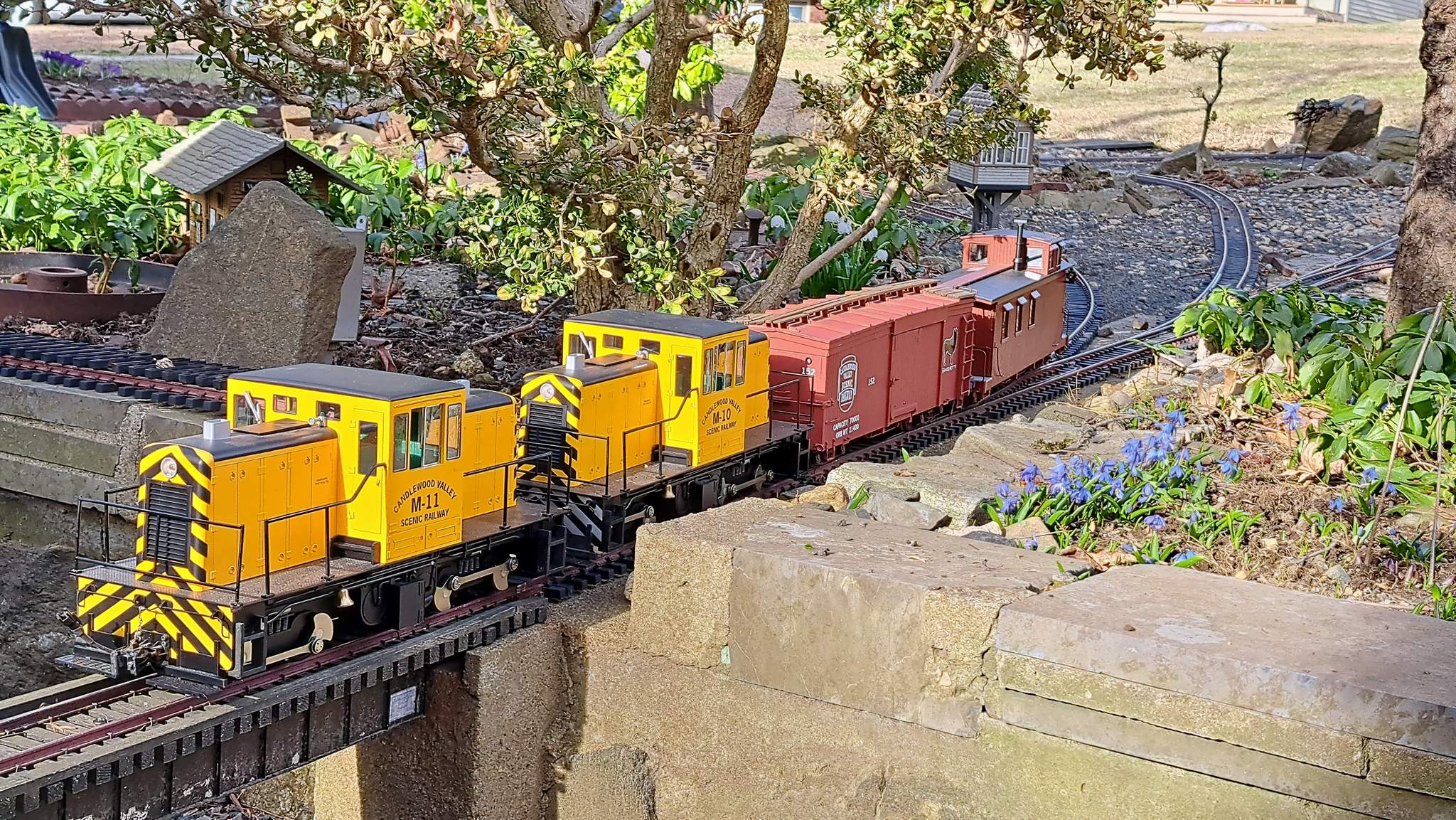 And drifts through Coal Dump Curve on the way home…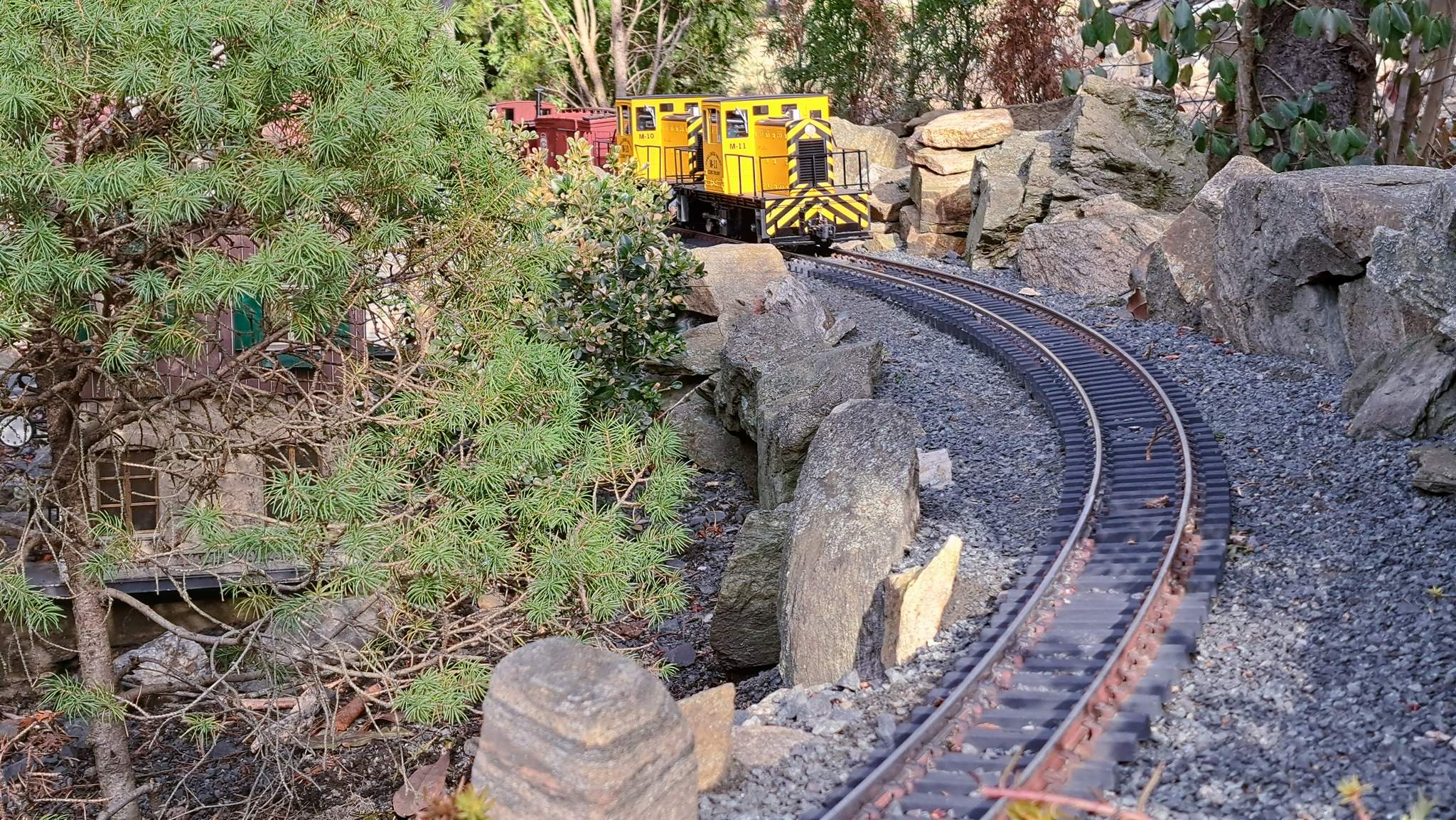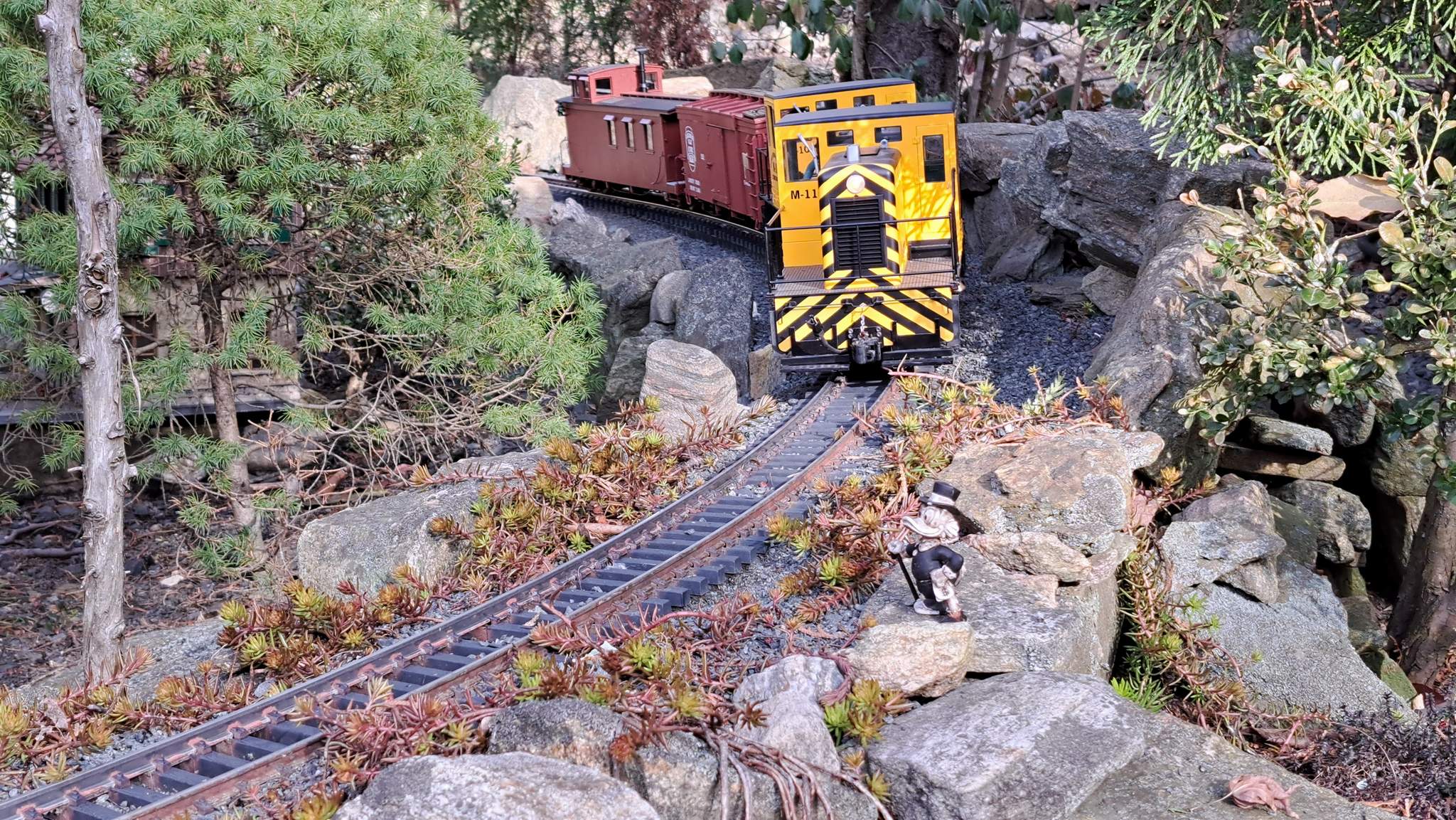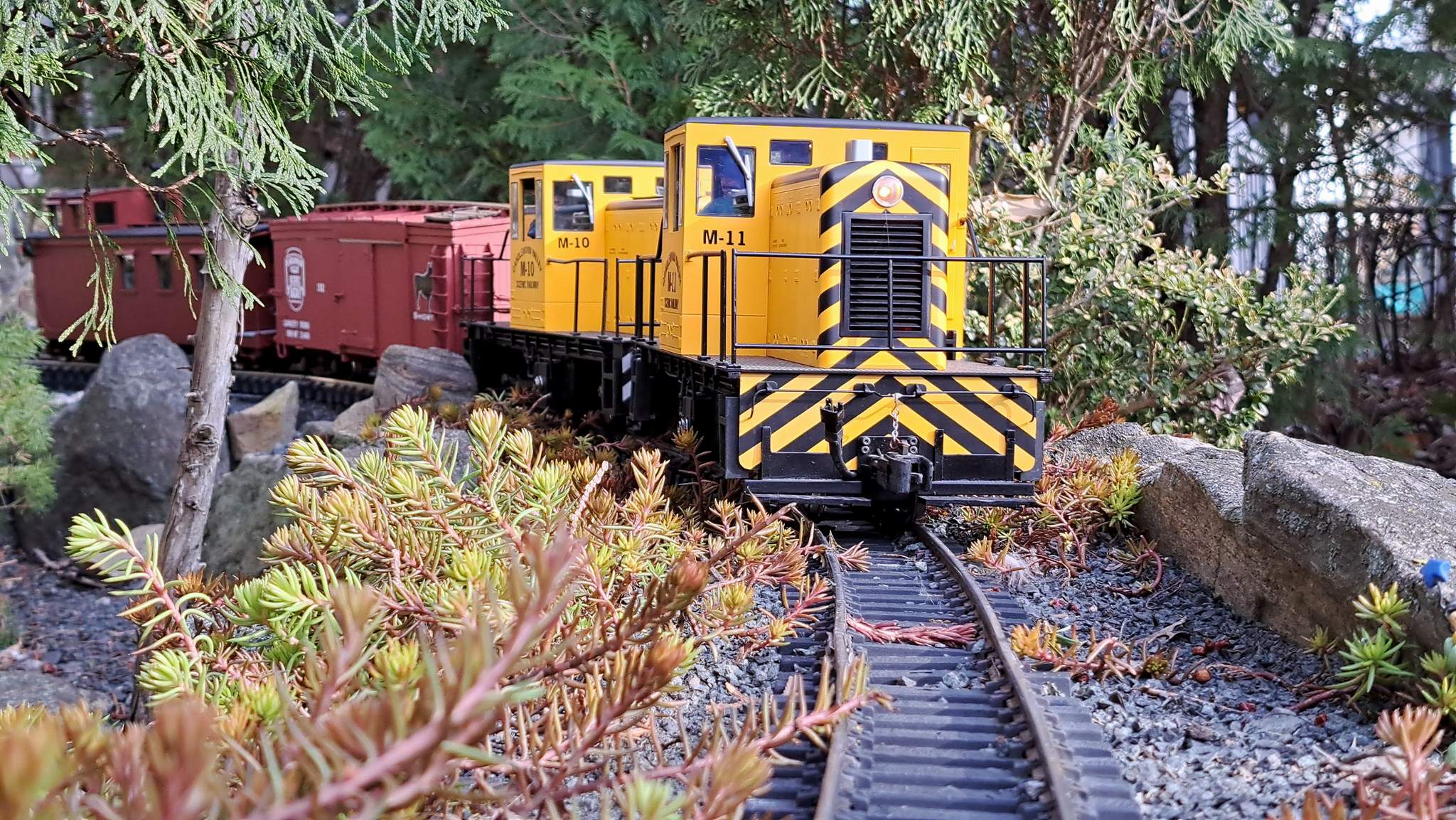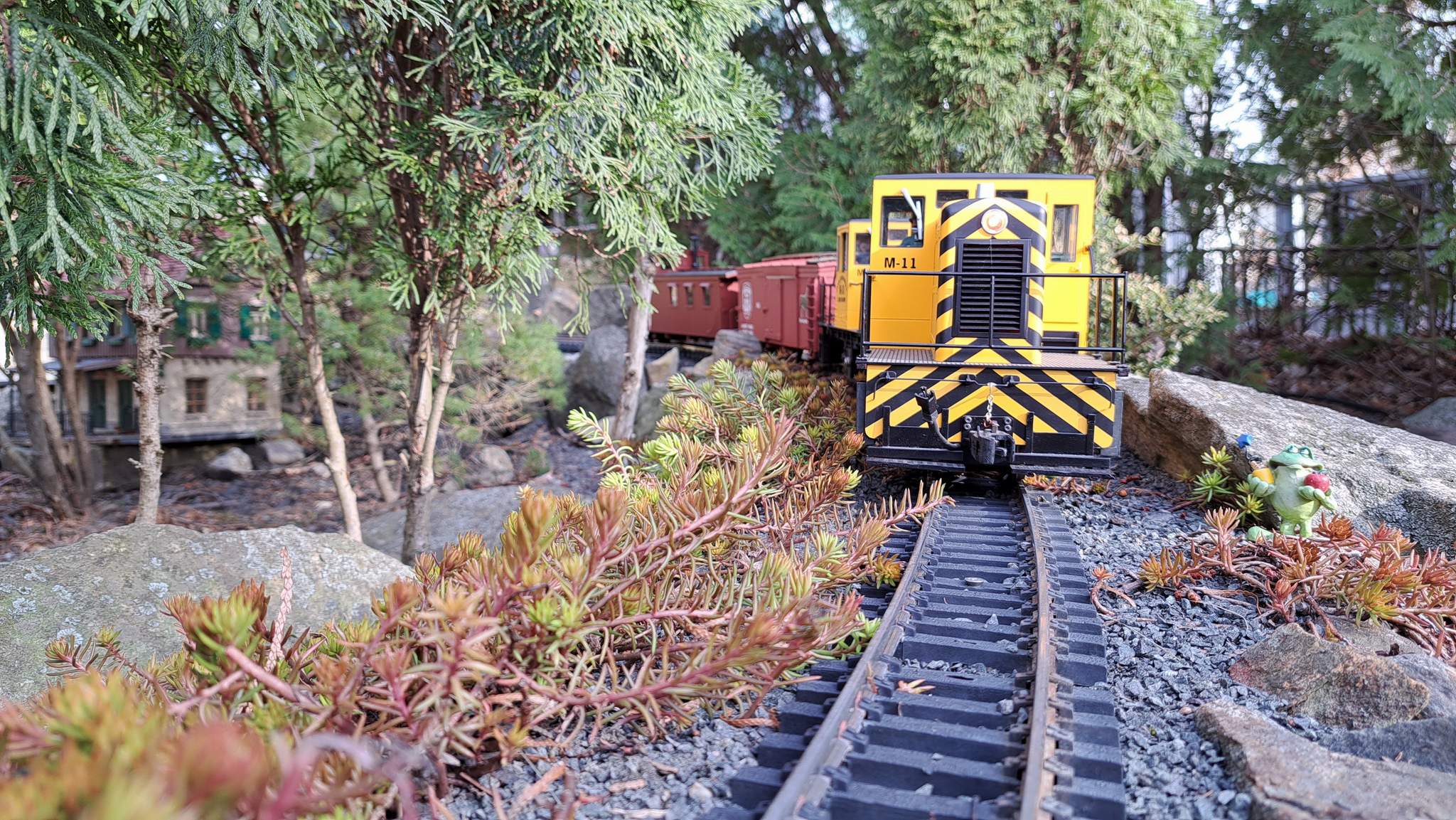 EDIT: For some reason, not all the pics are displaying. Clicking on the blank space seems to open the larger version.
What blank space Jon? I see 8 pictures, how many did you post?
8 is correct. For some weird reason a few don't display for me. Glad they work for you.
You're not hijacking it…if I Rember we use to open a post so others could and were encouraged to post in the thread…


Great pics John …
Thanks Sean…
I figured that was the intention, but wasn't certain.
Who else is out running already? Post 'em up!
had some out Monday before Tuesday rain made me put them all up. The BNSF locomotive used to belong to Steve Featherkile, I was lucky enough to be the buyer of one of his locomotives.
The white beer can car is being passed around to owners of CamPac boxes , 3D printed by Colin Camarillo to adapt many locomotives and cars to KaDee couplers with proper spacing. He had the decals made for this and is sending it to owners of their products. When I am done playing with it (and waiting for the next guys layout to come out from under the snow on it) I will pack it up and send it to them. I'm guessing this car will be on display at the convention this year in S F bay area
I had a little steam up Sunday, spectacular weather. Friend Mark brought over his two new to him Catatonk Climax and Heisler. Here is the Heisler
And here is my live steam Climax making revenue from the logging operation:
This was from last spring I think

What began as a gloomy, rainy day turned into a gorgeous warm and sunny afternoon. For some reason, I decided to run a box car unit train today, probably because I just picked up another AMS box car. But only a fool would try and get a 10 car train with three engines through a wye that can handle 5 cars maximum! Here the consist approaches WALL and Coal Dump Curve…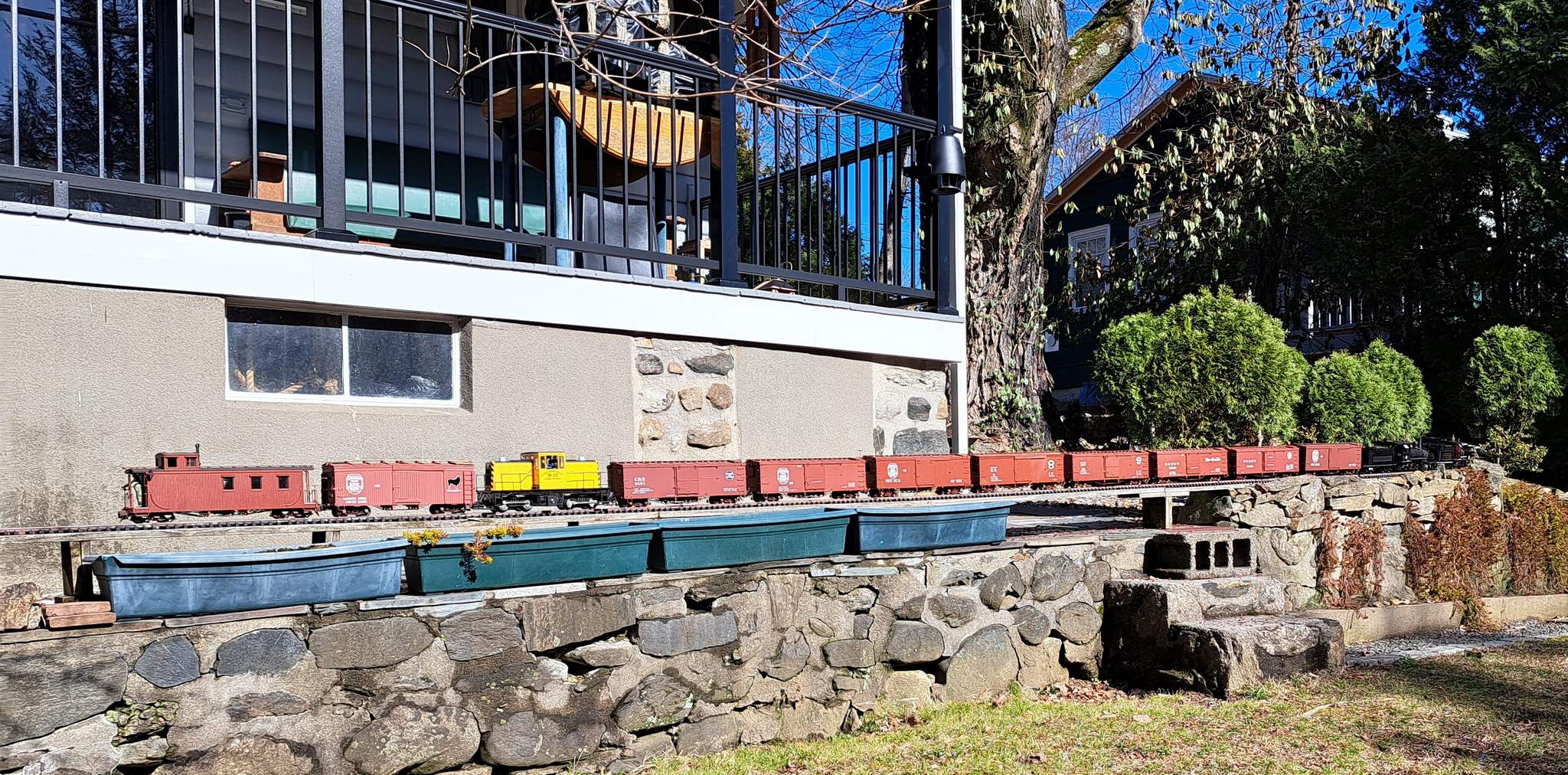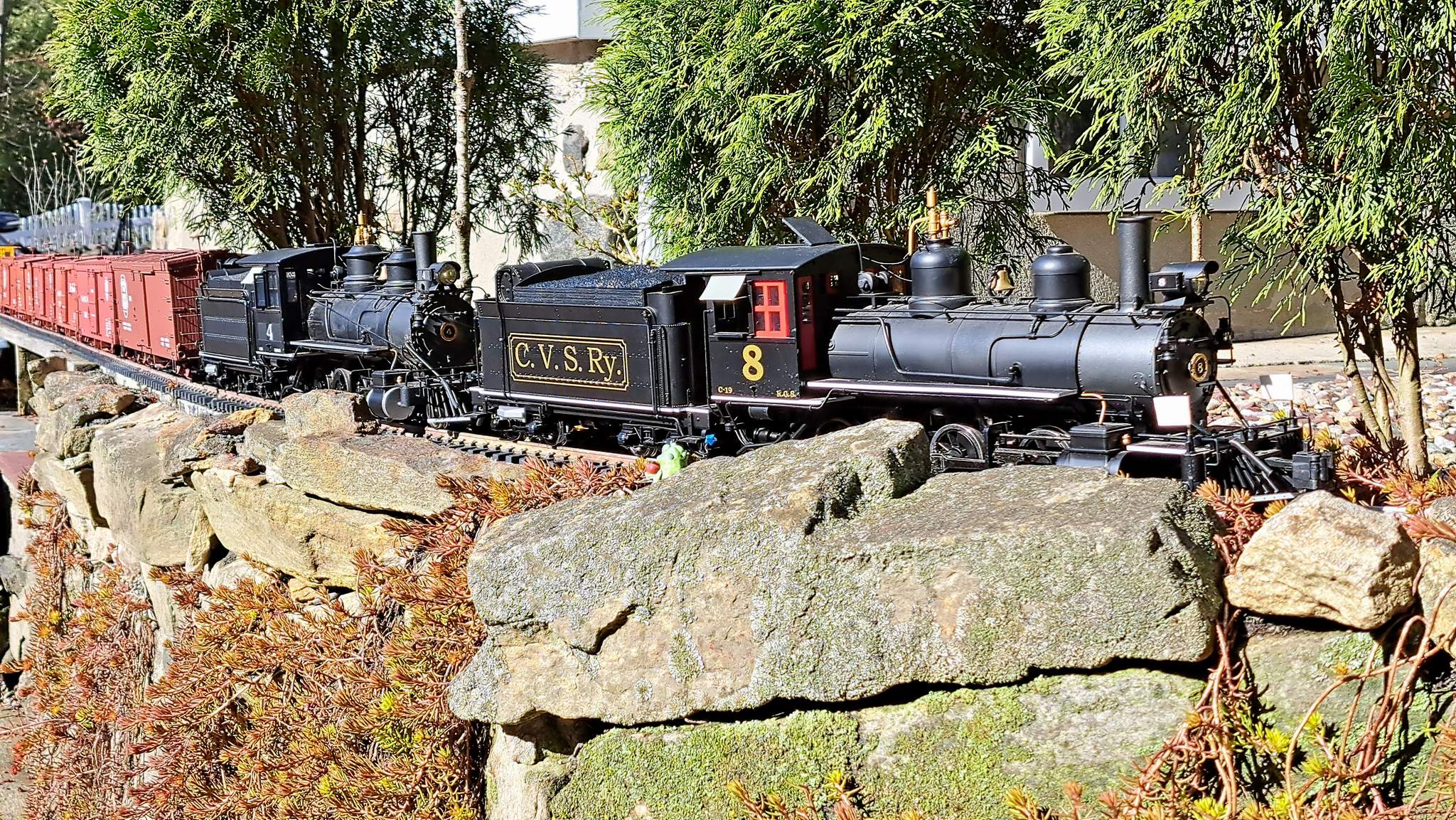 At Pine Summit, the train was broken into 3 sections to work around the wye. The first section to traverse the wye must have found a spot that needs cross leveling as it decided to lie over and die

…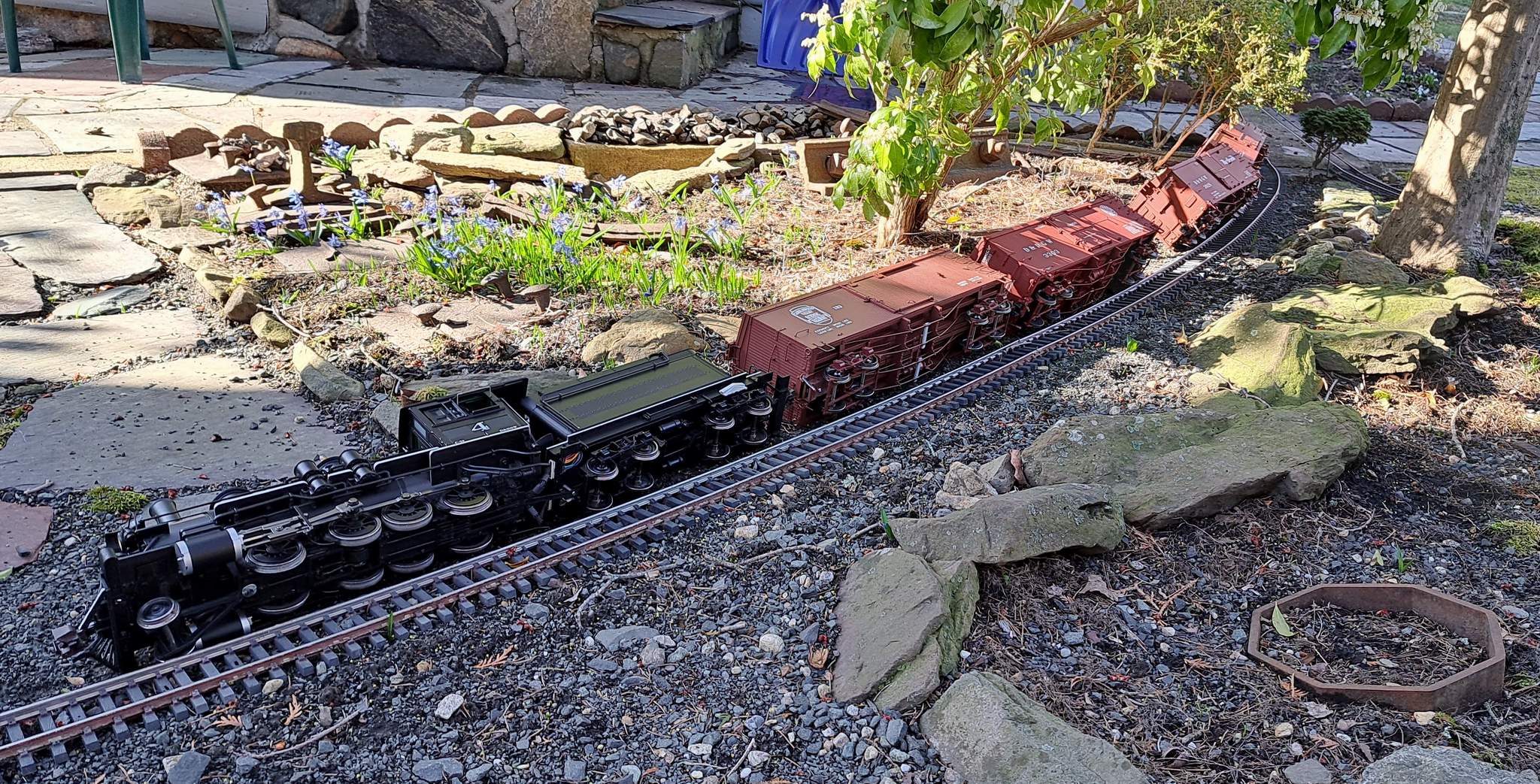 The wreck crew got everything back on the track and with a few more moves, had the entire train re-assembled for the trip home…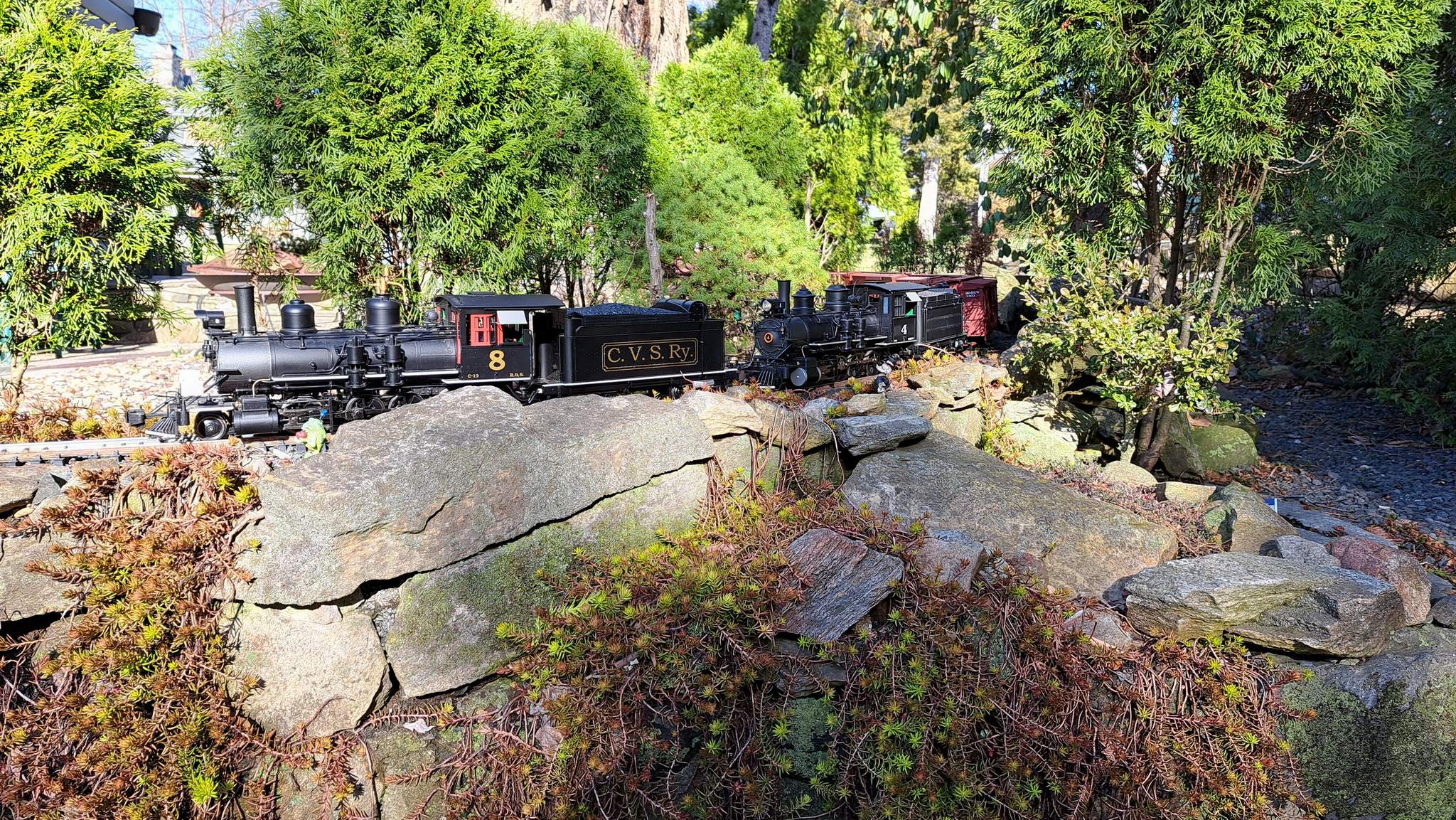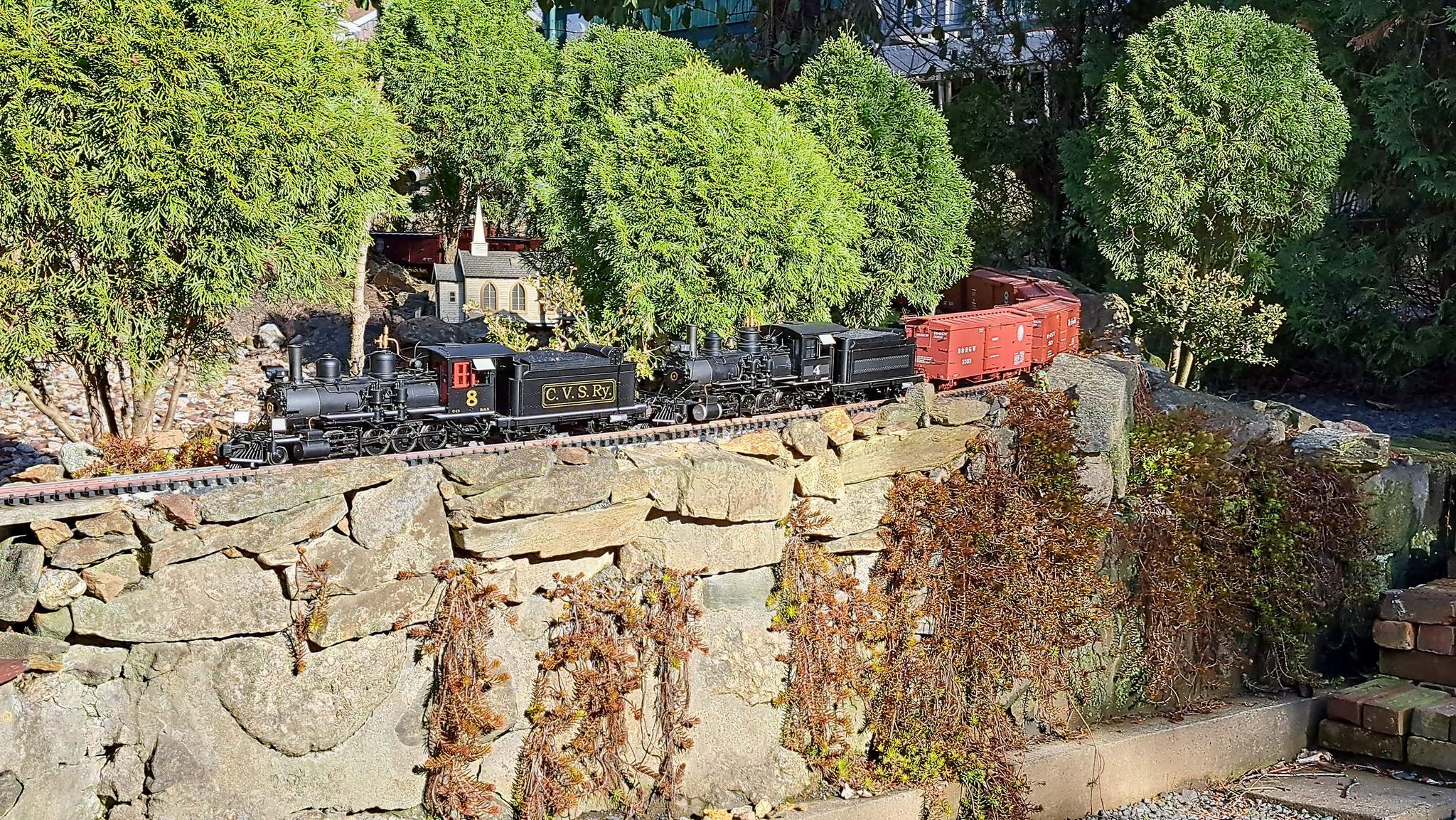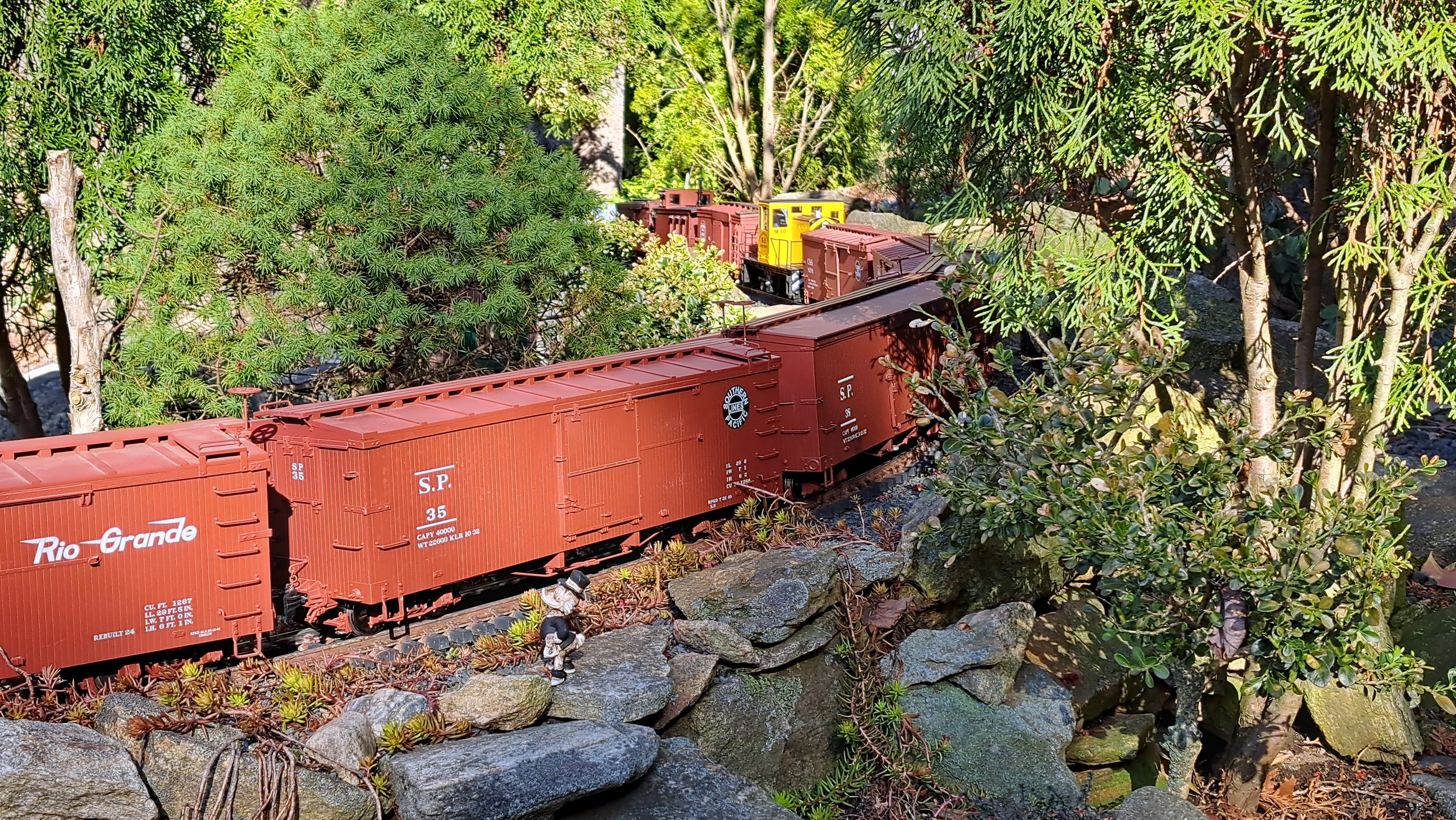 The only damage noted so far is one Bachmann coupler disintegrated. I have plenty of spares, so that's an easy fix. The rest still need close inspection.
wow , it sure doesnt look horribly out of cross level, could tthe bushes back there have caught the boxcar and pulled it over, THAT happened on mine the other day, at a slightly higher speed as it was on the main line… not that i run Lionel speeds at all
Perhaps, there is a sturdy little evergreen bush right there that encroaches on the ROW a bit. It was the last car that tipped first while moving quite slowly. Not thinking the rest would follow, I didn't attempt to catch it. There is a rather nasty vertical curve where the concrete encased track crossing the sidewalk transitions back to dirt. This has always been an area that needs major work every few years.
Damage inspection revealed noting but a little dirt and one broken coupler which is already repaired.
Running never stops in the land of perpetual summer! I thought I had some videos…Nope…
Eric
Spring running
Ok had an open house last weekend, 4/1&2 and during a slow time I took a couple of videos on trains operating in the main line in an area called Texas Canyon, not quite like where the late John Caughey was at, but still liked the name. The big BNSF is Steve Featherkile's loco I have the honor of being the caretaker for it.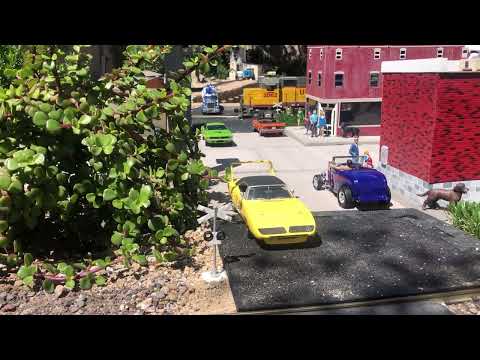 Anyone that knows me knows I am a Mopar fan, so the layout has an abundance of Dodge and Plymouth automobiles. 2023 MIK building the BR bank makes a back to us debut on the layout.
Nice day yesterday , so a MOW train was run over the railroad to see what was going to need attention. the first is going by the remains of the glacier. it is melting fast and is almost gone this morning.
this is the only real damage found. it is twisting the spline to the outside of the curve, so a slow order is needed.
coming across the big trestle. this seams to not have been affected by frost heaves this year.
coming across the Bob Hyman memorial bridge. this has weathered out faster than the rest of the bridges.
other than the ballast in the points and frogs to clean out, the railroad survived this winter well.
the usual frost heaves and ballast work will come next.
Al P.