This cute little loco came to me needing some TLC, and between my efforts, Ol' Hogger in Germany, and the guys on Gscalecentral.net in the UK, we found the problem and got it working. [Valve hanger incorrectly mounted upside down.] It was probably built from a kit by a guy in Australia, as that's where I found it.
It was claimed "Else" had never been run, which I can believe as it didn't run when I got it. No sign of wear on the wheels, and it is in good condition. The cab roof is not fixed, so it falls off occasionally and has a couple of scratches! RFear coupler is the euro Marklin style, though easily swapped. A Ronson filler valve is fitted instead the original Regner type.
It is a very nice runner and would make a good first loco for someone thinking about live steam. It is designed to be radio controlled, as the throttle/reverser wasn't connected to anything (it normally has a servo under the cab to manage it.) I installed a short loop of stiff music/piano wire through the front pilot/buffer beam to enable reversing and throttle control. [These Regner/Beck/Merlin engines often have a combined throttle and reverser.] It has a Regner whistle mounted in the side tank.
Lots of nice details, like the lubricator is disguised as an air pump, and there are front and rear lamps. This video is my first proper run after fixing the problem: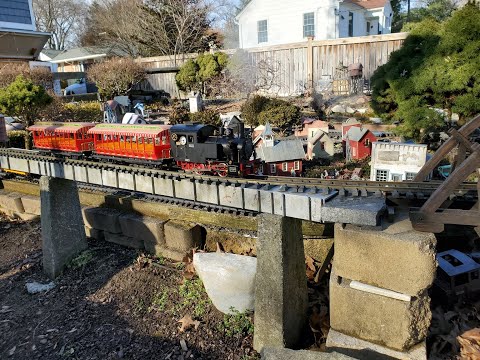 $850 obo.