In this section look for links to RailPro users videos, new products and install suggestions.
Video showing switching operation running the USAT S4 with Alco sounds and Phoenix remote couplers.
USA S4 RailPro demo & remote couplers
New video. Review of AirWire SD-70 drop-in with Phoenix sound compared to RailPro conversion with sound. Part 1 and Part 2.
NEW ITEM: HC-2-SUN Hand Controller with 30% brighter screen for outdoors viewing.
Thank you guys for your kind comments. Don
Would like to see a picture of the 2 different controllers side by side in bright sun. Surprised they don't have a picture on the site.
Greg
May 2019, RailPro adds Shay sound to sound files. Now available three truck Shay recorded at the Hesston Steam Museum. This is the newer ULT quality file and responds to the loading feature. Video sound demo to be posted soon.
Select new Baldwin 3 chime whistle. YouTube of the exact whistle. https://www.youtube.com/watch?v=rAw17tXUke4
Here is a photo of the standard hand controller screen compared to the brighter screen outdoors in the sun.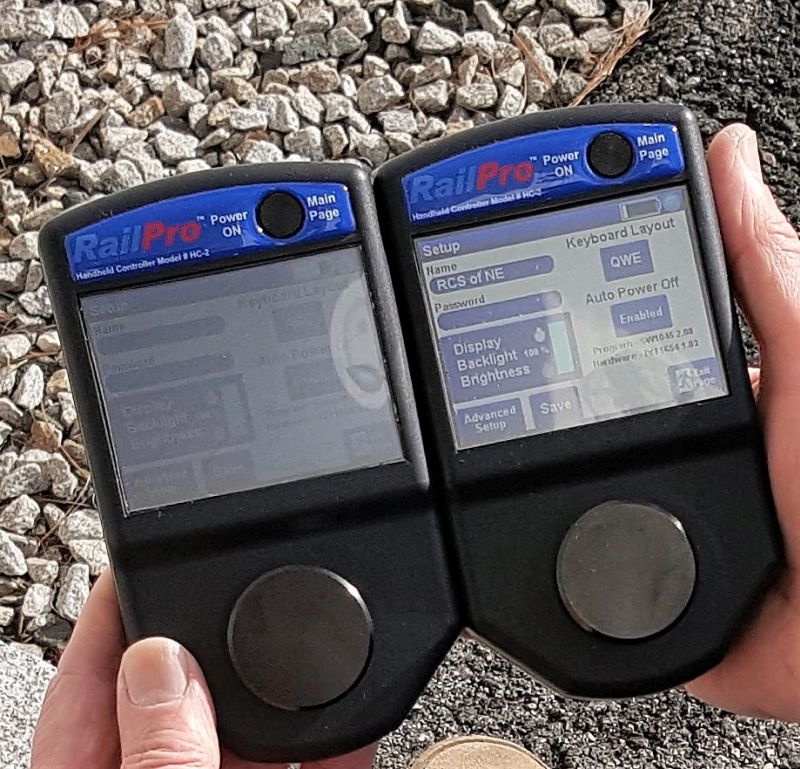 To see the RailPro system operating at the NGRC Portland, OR, please visit Terry Meyer's layout during the tours. I will not be able to attend. Terry has the system with the brighter hand controller screen installed in his USAT SD-40.
Outdoors video called Parade of Steam. Featuring all the Bachmann geared locos operating using the RailPro system. Double heading the Heisler and Shay. Segment on how to create a consist in 10 secs. I am using the SUN/brighter screen version hand controller.
Second video using the new Raton 2-6-0 and Climax to show using the Plug N Play adapter for the RailPro. Select battery or track power switch. See and hear sounds.
Click on link then select the video.
October 2021 Review of past Updates
What's New Page from Ring Engineering web site… https://ringengineering.com/WhatsNew.htm
September 2021
New Ultimate Series Prime Mover
Gevo-12 Tier 4 ULT
August 2021
New Ultimate Series Prime Mover
EMD 645-12 ULT
Diesel Bell - Gong Bell
July 2021
New Sounds
Diesel Horns - Nathan M3 ULT
Whistle - NW Hooter ULT
New LM-1 Program Rev 2.00
Rev 2.00 adds support for Rev 2 light effects on LM-1 (the first RailPro modules we sold)!
June 2021
New LM-3S-G Program Rev 2.50 and HC-2b Rev 2.23
Adds the ability to choose the input wire for Chuff Trigger Sync on LM-3S-G modules!
IMPORTANT: You must update your HC-2b program and your LM-3S-G program to select the input wire for chuff sync.
IMPORTANT: You wire one side of the reed switch to +5V and the other side of the reed switch to the input wire on the LM-3S-G module.
January 2021
New RailPro Ultimate Series Steam Sound
Steam Chuff - Heavy Steam ULT
We are excited to offer this new level of realism in steam sounds reproduction! Our new steam ULT sounds are whole new level in steam sounds reproduction that has never been done before! This is the most complex sound set we created so far and it is compelling to hear it in action!
IMPORTANT: You must update to the newest locomotive module program for the new Heavy Steam ULT to play properly.