This wreck appears to be the result of very poor planning for an oversize move. There should have been a police escort holding traffic for the truck so it wouldn't stop on the tracks. Coordination with the railroad would also have been advisable. Fortunately no hazmat or flammables in that mess right near a college campus.
I'm surprised this didn't make national news. The bomb cyclone to hit Chicago must sell better.
Holy cow. Thanks David. And yeah Jon, poor planning indeed!
Sure messed up the track. At about 1:30 it shows the project, and how many of these concrete beams are being used. Huge project, and I'll bet some "reorganization" in management happens after this.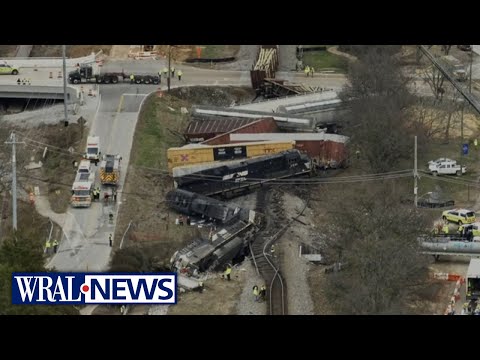 Guess I should have checked the train board before sending you and e-mail…

Reminds me of exactly what happened in Brandtsville 10yrs ago
It's all good

Was the train crew OK ? I didn't see anything on them
Here's the text from the YT video. Amazing that there were only minor injuries for the crew.
Two train employees were injured in Tennessee when a train hit a semi-truck that was sitting on the tracks waiting for a traffic light to change, causing three locomotives and 10 railroad cars to derail.
The collision left "a disastrous mess" Tuesday in Collegedale, a suburb of Chattanooga, the Hamilton County Office of Emergency Management said in a statement. The freight train hit a truck carrying a 134-foot (41-meter) concrete truss bridge beam, the statement said.
Two Norfolk Southern Train employees were hospitalized with minor injuries, according to the office. News outlets report the truck driver wasn't injured.
The truck was stopped on the railroad tracks waiting for the light to turn green, according to the Tri-Community Volunteer Fire Department. Officials said when the crossing arms were activated the driver attempted to clear the tracks but was unsuccessful.
"Collegedale has dodged a huge bullet. That is a tragic accident that could have taken many lives," Jim Hall, former chairman of the National Transportation Safety Board, told WTVC-TV.
The crossing was blocked by the crash and an investigation is underway. Several agencies responded, including a team to clean up hazardous materials like leaking diesel fuel from the locomotives.