Way back at the end of April, I was fortunate to be able to purchase one of two Bachmann C-19's from Ken Brunt's estate. Had I known there were two, I probably would have chosen the other one since I already have a D&RGW #345 on the roster, but at the time I didn't and was very happy to get a second #345 and my third C-19.
Upon returning home I began the process of removing the RCS control system from it, in preparation for a RailPro install. It already had a nice speaker, but lacked an enclosure. I found a plastic jar that fit the speaker perfectly, so I mounted the whole mess with high temp hot glue. That was in early May. Since then life and other projects took all my time.
This week I decided that I was going to finish the RailPro install and get the loco in-service before the early fall operating season, which is the best weather of the year here.
Since this is my third install in a C-19, I already had the plan figured out. Just a matter of soldering up lots of wires. My C-19 installs take advantage of all the DCC functions Bachmann built into the C-19's. I have separate control of Headlamp, Taillamp, cab light (all dimmable), class lamps, firebox flicker and smoke. I don't use the smoke, but if I want to in the future, there is a remote-control function to turn it on!
I have become really OCD when it comes to wire management. This is perhaps my cleanest install to date! I could never do this for a living as I'd only be able to get about $1/Hour since it takes me so long. This is the result of three long evenings…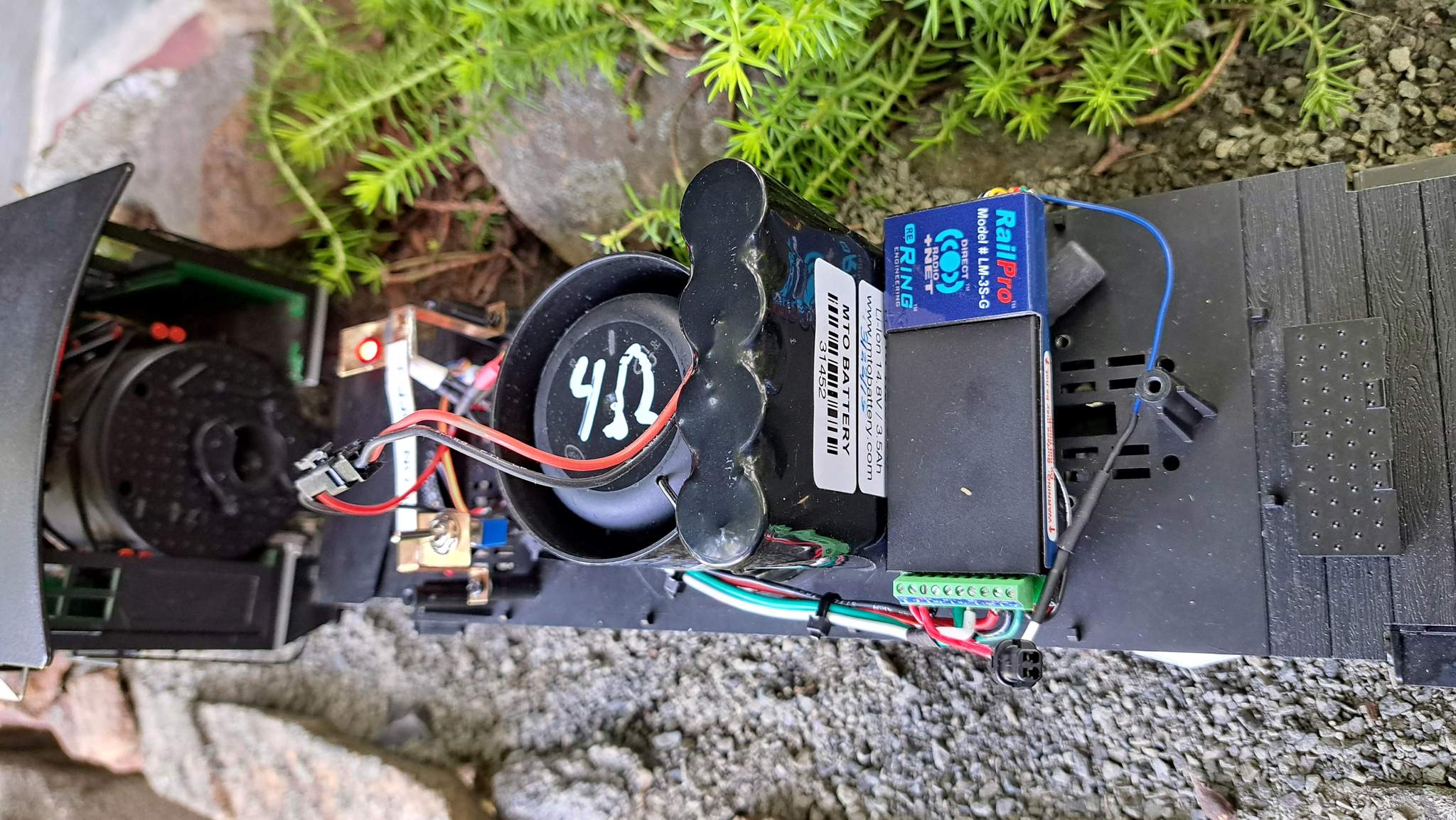 So, now that it's operating, I have a dilemma with having two locos numbered 345. I really didn't want to take the time to repaint things, so I modified the "movie paint" idea that uses black shoe polish by using matte black car wrap vinyl to black-out Rio Grande and change the number from 345 to 4 which is an available slot on the C.V.S.Ry. roster. I will have white vinyl cut for the tender to letter it for the home road. Here are some shots of my efforts. Depending on the light angle, the vinyl is quite obvious, or can disappear.
Once the tender shell is back on she will be out on the line for road trials. I lubed it up on arrival, but I noticed while testing on the indoor track that it's not as smooth at slow speed as her two sisters. I may need to open up the gear box and check for problems if it doesn't smooth out with some run time.
I may end up painting the tender and the number blocks at some point in the future, but for now, the vinyl works. I'm still searching for a Baldwin red and brass number plate tie-tack like the one I used for #8…

I have them for numbers 1, 3, 5, 12, 14, 15, 16, 17 and 18 that came from the FEBT store years ago. I don't recall if they ever did a #4.
UPDATE: The FEBT Company Store has the Baldwin number plate pins in-stock, so I ordered a #4. Shipping was almost as much as the pin, but that's life!