Not much Large scale to be had. hopefully that will change in the future.
Al P.
Unfortunately, I think that ship has sailed. I would think they could successfully re-run a lot of the later products like the two bay hoppers, boxcars (with good pot metal) and the C-19. Even the K with updated gearing would probably sell well. But their research tells them to concentrate on the smaller scales where there is still a large market.
I agree and disagree as I think the new 55' Evans (Especially Railbox)is gonna be a quick seller. It's all about the market and where they ( the manufacturer) wants to go on the Large Scale end I suppose? Charlies stuff and LGB Amtrak brings crazy money these days if you can find it! I feel there is still a market for Large Scale however you need to target your CURRENT audience and what they are seeking?
Look at the consists of the next generation at RLDS open house is a good example IMO …ABCDEFG

And I'm thinking that we have seen the "Golden" age of Large Scale - and it's pretty much gone now. Best of luck for the future, but the niche that we had seems to have shrunk…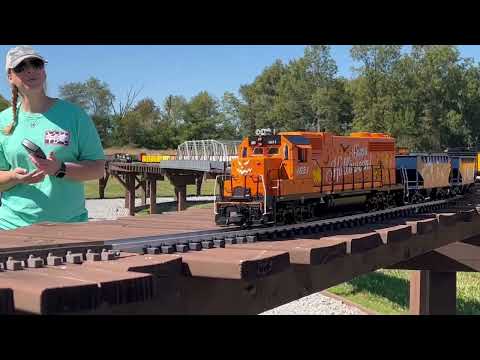 I suppose some have seen the Golden Age of Large Scale model railroading but have we really ??
Grabbed Cousin Matts video from a year ago and I want you to really look at the consists. So once again it's up to the manufacturer too decide how they want to approach if they consider to do such ? Just don't model Amtrak cause it's too large and sucks as nobody want's that crap anyway!


I really like the optical wheel sensor, that might be useful for all kinds of things. I dabbled in such a device a few years ago but couldn't get it to work. So I look forward to checking these out.
I agree with Bruce but qualify it by saying the golden age of large scale "steam" has passed.
Yep. For us Fn3 guys there hasn't been much in years. Fortunately the used market is thriving and if you don't mind paying through the nose, there is good stuff to be had.
As Rooster points out so well, the 1:29 crowd rules what is left of the market.
As a steam guy, I agree and am sad. So for now I concentrate on eBay when things come up. The prices have just gone up, the old supply vs demand thing.
Well i cannot say much but am working on a couple of projects for the B man among others. nothing is for sure at this point, but would involve using most of existing molds, so would have limited development cost. and once i show you what i have built for the NG convention there may be another opportunity. i will show off my entry after voting closes.
Al P.
Yea. If I had a crystal ball back when I started in LS, I would have gone with 1:29, but 1:20.3 was just getting its feet under it at the time and there was lots of promise, but it was pretty short lived.
Still going well for live steam, but scale tends to be a bit "rubbery." I believe Gandalf is 1:16.
Best, David Meashey
I'm not unhappy with my choice of Fn3. I started in 1:29 and was building a fair roster when the Fn3 bug bit. I sold most of it to make room for more Fn3. I've been lucky to have been able to acquire most anything I wanted over the years and most of it was priced reasonably. I'm not worried about the lack of new products since I'm pretty much done buying. It's just tough for new folks to get involved in scales other than 1:29.
My lowering of the scale bar started in 2010, with my first V&T conference attendance. I had told folks of my plans to make a scale model of the V&T trackage in Virginia City, and described my first Bachmann loco and Aristo passenger cars, etc.
And then someone said, "You do realize that the V&T was standard gauge?"
Uh…
Then someone said to the others there are dinner, "He should be modelling in 1:32."
Well, crap…
And now you know why I'm fine with the rubber scale.
And after I got off that hill, I went completely to 1:24, because the math is easy, and the scale is in-between.
Dang, my post is so off the OP topic, sorry.
Gandalf is 16mm:ft, otherwise known as 1:19 or SM32 [Sixteen Millimeter scale 32mm gauge]. Standard UK & Roundhouse scale.
Don't feel bad Cliff. The Aster "Reno" was 1:26th scale, I believe. To my knowledge there hasn't yet been a scale 1:32 model of a standard gauge 4-4-0.

The 4-4-0s seem to catch most people by surprise, as there are quite a few models of narrow gauge 4-4-0s, and also the Hartland & Kalamazoo 1:24 versions.
Yea, when all the 1:20 stuff was coming out, I wasnt in a position to buy as much as I needed. Now that I am, its not available, or going for a stupid premium.
Bob,
Be patient. It will come up slowly as the older guys fade away. It's horrible to say but the reality is the older folks in this hobby are: dying or downsizing. And if your patient you'll find stuff.
PS I saw that LGB announced some Amcrash stuff like those fancy diesel locomotives…
As a more modern thing I am welcoming it , even if the trucks on boxcars are still older than what I model. The Evans car is about as long a car as I can use and will be buying some.hoping for more tank cars , specifically the 42' and maybe another 29' or 4.