Just another Boxcab saga
Having completed my Ozark boxcab, I moved on to the next project, a Banta Modelworks Crewcab. (It is also a boxcab in you install the side sheathing, as their photo shows, but it has the option of a full set of windows, llike a large MoW car or Speeder.)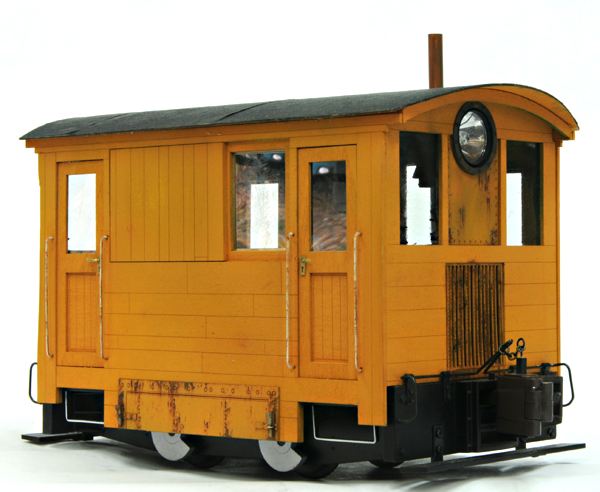 It fits on a Bachmann Davenport chassis, which I didn't have. But after a few weeks a pair popped up on Facebook - one used/good, one with no motor, but I figured I could make something of it. When it turned up I wasn't encouraged.
I already have a USAT power block from a 44 tonner. Having 2 complete bodies my thoughts turned to a center-cab:
Naw, that doesn't get me a Boxcab frame! So I continued stripping it down, and got to the point where I realised the USAT block wasn't going to be just a drop-in. (Working Davenport on the right.)
Looks like it will work though. That's the Banta base and a battery holder, as that's the way it will work, I think. I then worked out what was missing from the good loco, and swapped bits to make one very complete loco, which I then sold on Facebook for the same as I paid for the pair. (The trickiest bit was the headlight. The good loco had one with broken legs and a bulb. Took me a while to figure out how to remove the front and get the bulb out to put in the other headlight. [Put a screwdriver in the hole underneath where the wires come out and push/lever the reflector out.])
I found the chassis is solid metal, and the hump over the motor is asymmetrical and thick metal. This baby, with traction tires on the USAT block and all the weight, is gonna pull anything. After stripping it down completely, (8 tiny screws holding each cut lever? Really?) I got out my Harbor Freight oscillating power tool and a couple of new (decent) metal cutting blades and attacked it. It wasn't too hard though the tool got a bit hot, and my hands were sore from the vibrations.
With the frame on the USAT block, we now have something that might work. You'll note I haven't put the sideframes back, as the wheelbase is different. However, as you can see from the first photo, the wheels are not exactly visible, so I don't anyone will notice - especially after I paint them black/rusty.
I think the next task is to check out the power block. It seems to have 2 small plugs in one end, which I assume are motor-in, pickups-out. A JST plug might fit.
This post was edited by Pete Thornton at December 28, 2020 1:04 PM EST
____________________________________