Saw Mill Run Bridge v3.0
During the winter the bridge that crosses my pond was partly reduced to its component parts, and the west bridge abutment was removed. I am blaming it on a deer, loosing its footing and falling into the pond. Because if a person were to fall into the pond, they would probably still have been there.
I originally made the bridge abutments right on top of the edge stones of the pond. So, every few years, I have to move them back, because they have been slowly creeping into the pond. I decided this time around that I will build a longer bridge, and place the abutments back from the pond on more solid ground. Also, since the opening of the railroad was delayed for many reasons, I am doing a more thorough job of rehabbing the railroad. I have replaced probably 6 feet of broken ties (not all in one place) and 2 sections of rails have been replaced. One section was bent up by the deer, and the other was bowed because it was formed without a railbender when I built the railroad.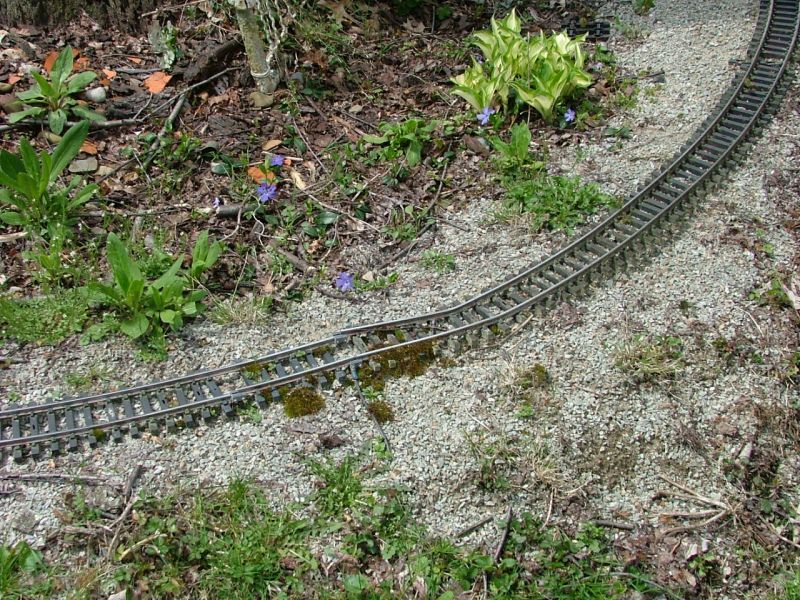 Deer damaged track.
Missing, one bridge.
I decided that this time time around the railroad would pony up the money for a bridge made out of something other then wood. I like wood bridges, especially ones that look too spindly to do the job, but so far they have needed some repair every spring. So I wandered around Lowe's for a while to see what my options were. I could have used aluminum, but I don't have the means to solder or weld aluminum together, and I really didn't want to drill a few hundred holes for screws or rivets. I could have used steel, but again I don't have the equipment to braze or weld steel, and drilling a few hundred holes would be even more intense with steel then with aluminum. Then I wandered into the isle with Azek PVC boards. I would have liked something bit thinner, but I settled on the 5/8th inch square trim for my material.
This post was edited by David Maynard at June 3, 2018 10:08 PM EDT
____________________________________
Shannon car Shops
Home of the infamous leg lamp

I.A.R.R.R. Member #12
and King Butt Modeler