Ted Doskaris said:


Hi Dan,

I thought about this, too, for sometime, but being I have several Aristo GP40s, I did not pay much attention to it. Since Aristo is out of business, it now will make for a good project that you can pursue with the excellent skills you have.
Thanks Ted. After making the Comfort cab for the GP38-2, I started working my way back and made the dynamic brake for the GP40.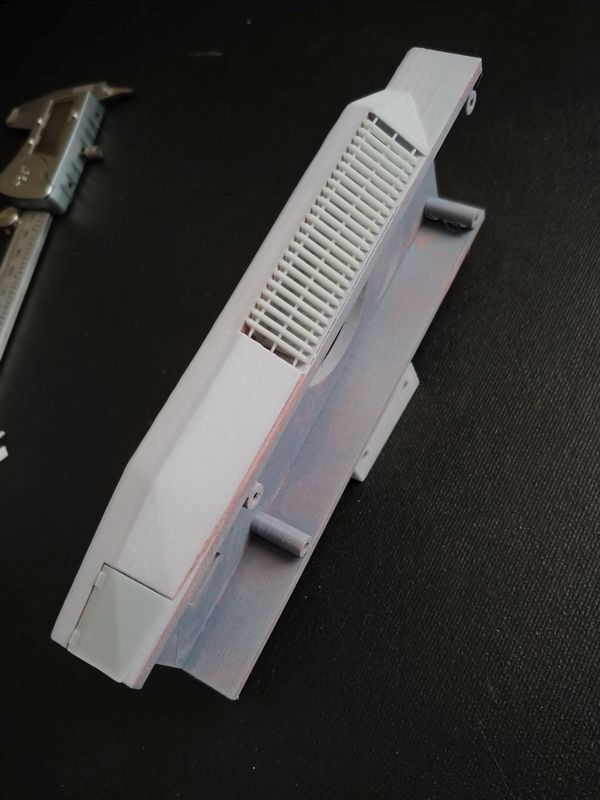 Now I think I'll cut the SD40-2 shell and make a GP40-2LW so I can use the Cab and also make a large fuel tank (better sound)
One exterior item that may distinguish the GP40-2 from the GP40 is the "Electrical Cabinet Air Filter" (that I call the "Dog House") located behind the left side of the cab, prevalent on the SD40-2 and the GP40-2 pictured above. I just completed rebuilding my UP SD40-2 from just a shell & chassis purchased sometime ago. Its Dog House is shown below.

When I last checked with Mike at USA Trains parts, the Dog House is not available. Coincidentally, the Dog House was missing on my friend, Colin Camarillo, SD40-2, so he is currently in the process of doing the 3-D print of that part.
My shell did not include the dog house either but it seems the CN GP40-2LW's don't have them. Instead there is a low cabinet. I Also noticed the Dynamic brake on the SD has 2 fans so maybe I'll use the one I created instead!